The devices of the Aerotec series are permanently installed and are designed in stainless steel for continuous operation. They are part of the basic equipment of a performance and environmentally conscious company.
The air purifiers are robust and, thanks to the stainless steel housing, have a long service life even under extreme operating conditions. The electronics part is splash-proof. Especially for companies that deal in perishable goods, maintain cold stores or come from the food processing industry, room air that is as free of germs and odors as possible is of central importance. But companies from sectors with public traffic also depend on healthy, fresh air.
Thanks to the principle of air ionization, you protect food from spoilage and mold growth. Your goods can be stored longer and stay fresh and appetizing noticeably longer. The Aerotec device reduces unpleasant odors and prevents odor transmission.
The housing and the generator housing are both easy to clean. It is controlled either via an integrated controller or via a separate controller, which can also be used to operate several Aerotec devices at the same time.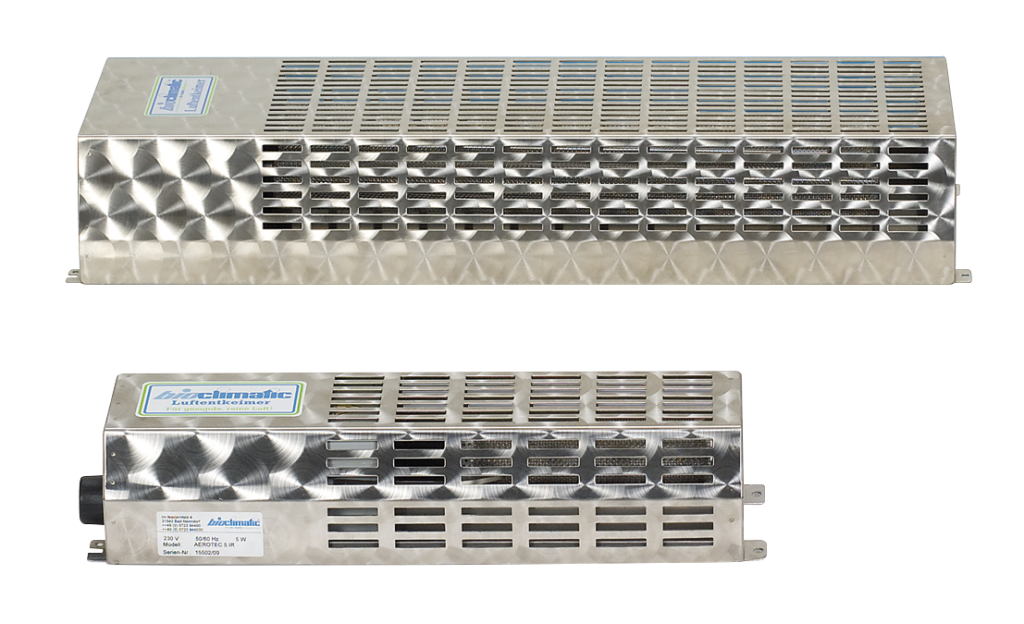 Hotels

Restaurants and large kitchens

Storage and cold rooms

Smoking areas and odorous rooms of all kinds

Production rooms for food laboratories

Animal shelters

Pet food stores

Garbage rooms
Plug & play 
Versatile installation (wall or ceiling)
Variable tube selection for the room size (1-3 tubes, 3 different sizes)
Various control options
Optional ventilation fan for better ionization distribution
Durable (stainless steel housing)
Low energy consumption
Low maintenance